Frangia  is a prime site for a first class tourist development in splendid seclusion but with easy access to the local beaches and facilities. It has all the benefits of a Greek coastal site with the added attractions of spectacular views all round and quiet and peaceful surroundings – and the hill-top location means it will stay that way!
The architects Margarita Kakse and Armin Kaske, designed the project in partnership with Mani Developments, Proastio, Greece.
Mani Developments, who is the sole owner of the property, is looking for a lead investor. Mani Developments will bring the property into a partnership with a newly founded company, registered office in Zurich, in which the investor keeps an adequate stake. The newly founded company will build Frangia, Hotel & Residence – will own 100% of the development & 100% of the property. Mani Developments will be lead architects and construction supervisors.

Frangia, Hotel & Residence will be built on the Frangia property, which extends to 21.201m2.
Grants from 40% – 60% of total construction cost and furnishing may be available for Frangia Hotel & Residence. The Hotel will comprise a private gated development of: 9 Luxury Villas - 26 Luxury Village Units - Public Utilities: Reception / Lobby , Restaurant & Bar, Cafe, Lounge , Recreation Area, Conference Centre, Playground, Green Spaces/Squares, Shop, 24-hour Security.
It is no exaggeration to claim that Frangia has to be the finest location on this coast and the photographs, as graphic as they are, cannot do justice to the panoramic scenery of this site.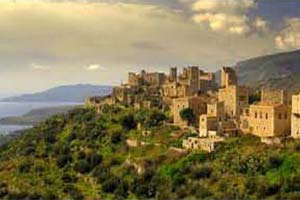 History in Greece is not just measured in centuries but in millennia so Frangia should be seen in the historical context of 3,250 years.
Elevated above the main road on a gently sloping plateau, Frangia commands stunning views of the coastline, the Gulf of Messinia and the peninsula opposite, the steep canyon bordering the north and the Taygetos Mountains behind.
On a total area of 21'201m2 and a beeline of 150m from Delphinia Beach, Frangia Hotel & Residence will be developed as a Luxury 5* Boutique Hotel with 26 luxury village units and 9 extensive luxury villas with private pools.
In the flat core of the property with the existing old chapel and the olive grove, the centre is being developed with studios and the Public Utilities enclosed by extensive designed landscape with differing green spaces such as squares, groves, parks, playgrounds and gardens.
A shadowy yard or/and terrace are a must as in the southern Mediterranean regions people tend to spend most of the day time and evening outside.
Grants from 40% -60% of total construction cost and furnishing may be available for "Frangia Hotel & Residence", except cost of purchasing the land.
Please don't hesitate to contact us for up-to-date information or to make arrangements to view the Frangia property.

Brochure
Why not download the brochure to make sure you have all the details?